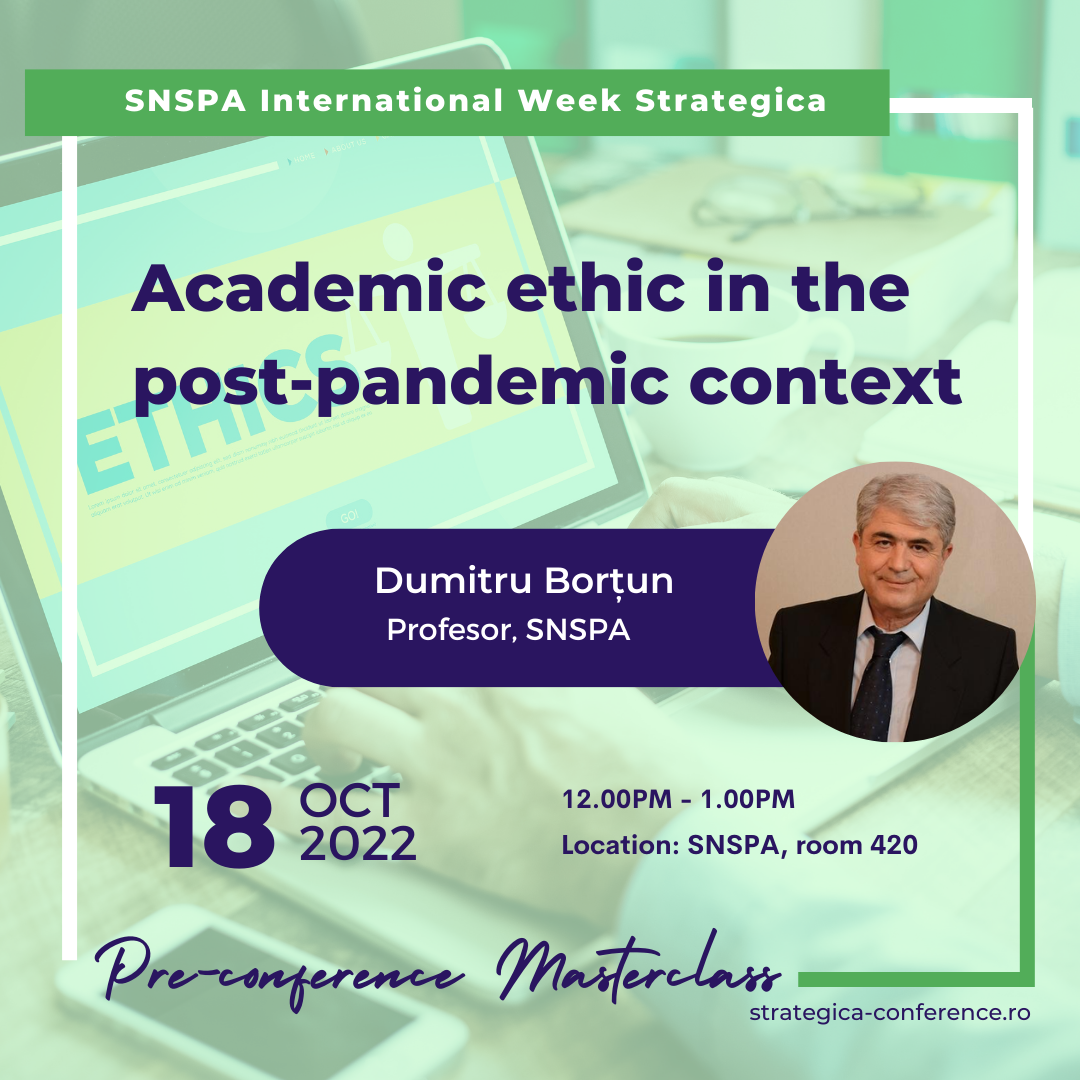 Academic ethics have always been a pivotal issue when addressing the imperatives of a healthy and integrity-based educational system. Nowadays, probably more than ever, the exigency for ethical conduct is even more compelling as the pandemic has entailed novel discussions on the grey areas in teaching and research due to the higher dependency on the online environment. Given the newly emerged academic challenges, the discussion will revolve around:
academic ethics before and after COVID-19: similarities and differences
what disruptive changes has the pandemic triggered in terms of ethics?
how to deal with the online-driven factors for ethical misconduct?
how to convince stakeholders not to cut corners in the academic environment?
Lecturer: Prof. Dumitru Borțun.
Dumitru Borţun has a PhD in Philosophy and is currently a Professor at the National University of Political and Administrative Studies in Bucharest – SNSPA. In 2009, the National Alliance of Student Organizations from Romania – ANSOC awarded him with the title of Professor Bologna, awarded to teachers who "are appreciated by students, add value to education in Romania, and are models for students". In 2015, he received the title of "Personality of the year 2015", awarded by Legal Point Magazine for "promoting moral values ​​in communication techniques", and in 2017, the "Integrity, Good Governance and Social Responsibility" Diploma of Excellence awarded by Eurolink. In 2021, the President of Romania, Klaus Iohannis, awarded him the Order of "Cultural Merit" in the rank of "Knight", Scientific Research category, "as a sign of appreciation for the important contribution made throughout the entire activity to the promotion of Romanian culture and national identity "
When? 18.10.2022, 12.00-13.30
Where? SNSPA, Bd. Expoziției 30A, room 420
The event is organized by the team of the CNFIS-FDI-2022-0051 project "Academic Excellence".
Please note that all the discussions will take place in Romanian only.
Registration: please click here.