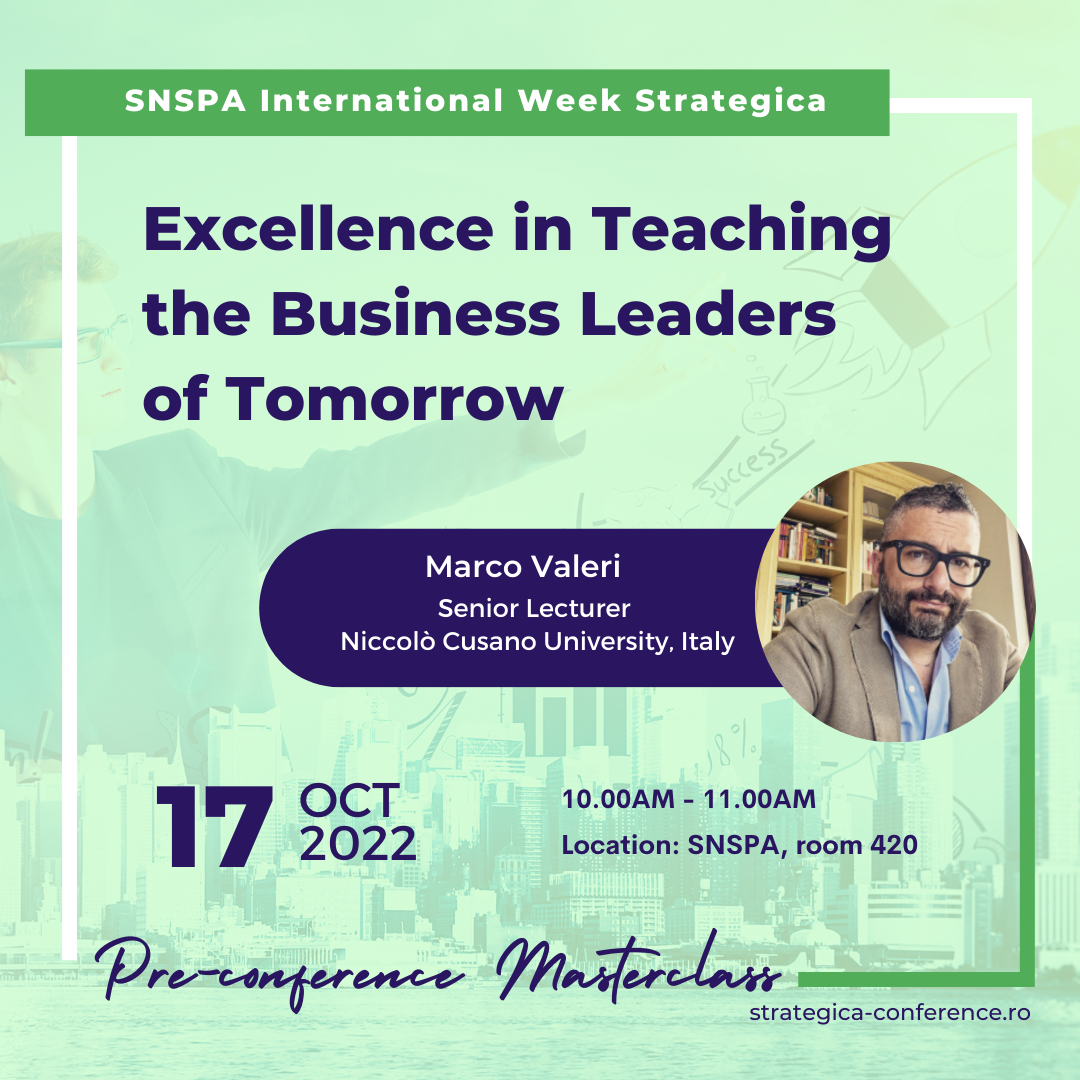 The teaching methods and techniques have dramatically evolved over the past years, a very important role pertaining to the online teaching environment in the context of COVID-19. Various fields have been challenged to adapt and many disciplines have managed to reconfigure their approach towards a suitable teaching model. The presence of these challenges has been also felt in management and business curricula which is dedicated to mainstream excellence for the future generation of leaders. Based on these issues, the discussion will focus on:
what are the new challenges for the teaching activities brought about by the pandemic?
how to ensure excellence in turbulent contexts?
to what extent could academia cope with systemic crises?
what are the ingredients for achieving excellence in teaching management and business?
Lecturer: Marco Valeri
Marco Valeri is a Senior Lecturer of Organizational Behavior (Master's Degree and Doctoral Course) at the Faculty of Economics, Niccolò Cusano University, Rome (Italy). He is Visiting Professor at the Faculty of Social Sciences and Leisure Management, School of Hospitality, Tourism, and Events, Taylor's University (Malaysia). His research fields include competitive advantage, sustainability and green practices, strategy implementation, knowledge management, family business and tourism hotel/lodging management, crisis management, destination marketing, information technology and developing countries, and network analysis. He was a visiting professor at several Universities: the University of Eichastaett – Ingolstadt (Germany), Universitè Jean Moulin, Lyon (France), Holy Spirit University of Kaslik (USEK), Lebanon, University of Pannonia (Hungary), University of West Attica (Greece), TBS Business School (Toulouse). He is a member of several editorial boards of international tourism journals, a reviewer and editor of several handbooks on entrepreneurship, tourism, and hospitality management (Emerald Publishing, Springer, and IGI Global).
When? 17.10.2022, 10.00 – 11.00
Where? SNSPA, bd. Expoziției 30A, room 420
The event is organized by the team of the CNFIS-FDI-2022-0051 project "Academic Excellence".
If you would like to be part of this masterclass, please register here.