Empowering Networks for a Sustainable Future
October 21, 2022 @ 16:00

-

17:30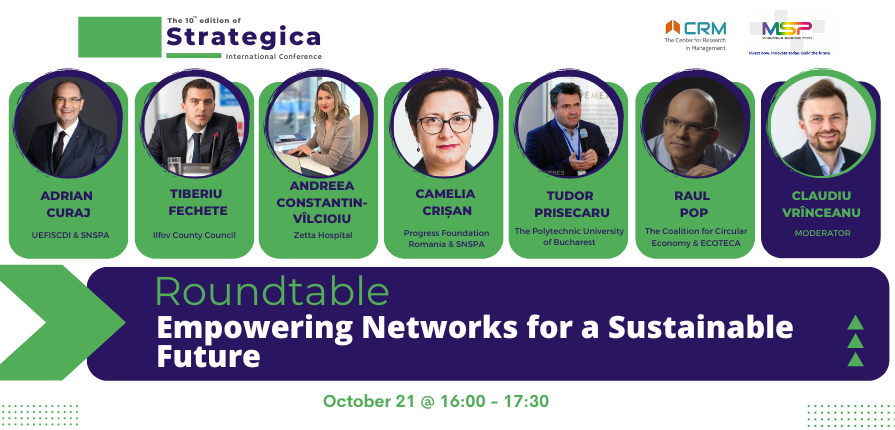 In a world that changes at a high pace, all sectors and industries must find new ways of working together as contributors to sustainable development in all aspects of society, from planning to implementation. The public sector plays an important role in the ecosystem, so do the research industry and academia, along with the business sector. Each actor has its critical role in the ecosystem, and the time is ripe for collaboration and creating support networks, given the social context of the last two years and the effects the pandemic, followed by the invasion of Ukraine, had on the economy at all levels. While some industries were more affected and others felt less pressure, at an individual level everyone felt the social and economic effects upon society, which opened a new stage of opportunities and pushed upon the emergence of considering to rely less on material resources and explore new perspectives of development, with creativity and collaboration.

With:
Adrian Curaj, General Director, UEFISCDI; Professor, SNSPA
Tiberiu Fechete, Head of Service, The Service for Innovation, Technology, and Social Services, Ilfov County Council
Andreea Constantin-Vilcioiu, General Director, Zetta Hospital
Camelia Crișan, CEO, Progress Foundation Romania; Senior Lecturer, SNSPA
Raul Pop, Co-Founder, The Coalition for Circular Economy; Program Manager, Ecoteca
Tudor Prisecaru, President of the Senate and Professor, The Faculty of Mechanical Engineering and Mechatronics, The Polytechnic University of Bucharest.
Moderator: Claudiu Vrînceanu
The event is organized by the Center for Research in Management from SNSPA and Măgurele Science Park Association and has been supported through the project PN-III-P1-1.1-TE-2019-1356.